How to make free website in 2023: When you ready to make your own website on blogger Free platform, and you still thinking now to make a free website or blog on blogger?
And Blogspot is a completely free blogging plot and very easy and more than features available here. Blogger is the good platform and easy to start Blogging for beginner's person.
Today's guide will help you to how to make free website on blogger, you don't need to buy a domain and hosting, because blogger is a free platform to build and host a website free of cost, Blogger owns by google I mean google. so you don't worry too about server problems and other issues.
There are more than blogger templates you can use and make good looking and professional website, So let's get started to step by step.
How to Make Free Website on Blogger 2023
When you start a Blog in Blogger you first need a Gmail Account, Make sure you have a Gmail account if you don't have a Gmail account don't worry to go to your browser and create your Gmail account.
It's a master key to access all the google products when completed done your Gmail account creation then just go to the WWW.BLOGGER.COM and sign in with your Gmail id and password.
How to make free website Step by Step
The main work starts Now just Follow the Below Steps.
Step-1 Click New Blog and put a Title and address for your Blogger Blogspot blog. See the Below in Image.
1. Choose your blog name.
2. Choose your free Blogspot domain name.
Step-2 Now choose a template of your choices there are various free template available in the blogger you should a template according to your blog Niche For example if you are going to start health and fitness blog then choose a template which looks like a health and fitness,website,Like. www.fitnessmam.com.
You can search for another template available on the web just download them and upload them to your blog.
Blogger Free Template in 2023
So many sites provide free blogger templates like
sabmera.com,
bloggertemplate.com,
GooyaabiTemplates.com,
Step-3 Now you have Make Free Website successfully. Let us move a step ahead just click on "Start Blogging & Writing post".
Step-4 You have to optimize your blog post so that it can get more page views. You should upload quality images in your blog posts and optimize every image for the search engine.
But beware there are various wrong methods of doing SEO ( Search Engine Optimization) generally used by new bloggers due to which their blog does not appear in search results si avoid these black hat SEO techniques to protect your blog.
How to Write SEO friendly Article in 2023
How to Optimize every blog posts to Get more page views

How to make money from blogging
Step-5 After Making Free Website all you need to add some important pages in your blog such as the ABOUT US, CONTACT US, PRIVACY POLICY, DISCLAIMER, TERMS, AND CONDITION pages These pages will help you to get Google Adsense approval very fast,
Privacy policy page is a very important page for every blog there must be a privacy policy page in every blog get google AdSense approval according to google Adsense policy guidelines. these pages help Google to know about your website.make free website
Step-6 Now you have created a blog and published some content in your blog and created some important pages in your blog, now is the best time to promote your blog.
You can promote your blog via various methods there are many methods to promote your blogs like number one social media like Facebook, Instagram, Twitter, medium, quora, and some paid promotion like Facebook ads, Instagram ads, google adword, etc.
Step-7 You have to submit your blog to the all-important search engine first Google search console, Bing, Yahoo process of website submission is the same just visit the google search console, and bing webmaster tool and submit your website.
Add Your own Domain name to your Blogger Website
So you are here to know how to add a custom domain to your blogger blogs, before proceeding further let's know the difference between custom domains and sub-domains.

A sub-domain is that which is run under a,domain,for.example,www.yourblogname.blogspot.com here your blog name is under the .blogspot.com but in the customdomain www.yourblogname.com, so I think you have understood the difference between the custom domain and sub-domain.
Advantage of Custom Domain: a custom domain is a name which describes your brand as well as it gets short in characters, The main big advantage of having A Custom domain for a blog is for Google Adsense approval,
A blog must have a custom domain before applying for Google Adsense otherwise it is impossible to get Adsense Approval.
How to Add a Custom Domain:
To add a custom domain in blog firstly you have to purchase a domain name, there is various domain registrar which sells domain names at various prices according to extensions, you can go Namecheap.com Hostgator.com this is popular domain selling companies. Let's have purchased a domain name. Now follow these steps to add it to Blogger Blogs.
Step-1 Login to your blogger account choose your blog in which you have to add a custom domain.
Step-2 Now click on setting There will be the option of domain names, now choose for a custom domain and put your domain name.
Step-3 You will get an error message in which you will get two CNAME records with two hostnames.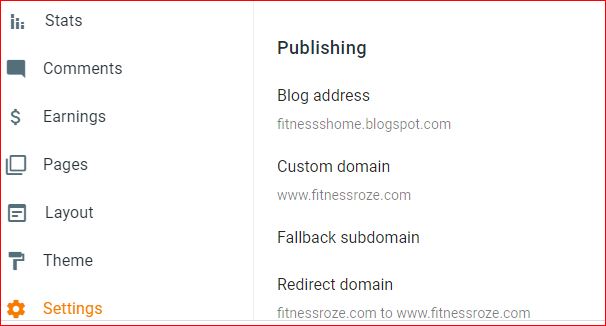 Step-4 Copy the C-name and hostname records and login to your domain registrar account and click to DNS setting.
Step-5 Now Add the CNAME records there which you have copied already from the blogger error massage.
Step-6 Now add four Different 'A' Records, Below is the list of four different A records Copy and Paste them in your A records Field.
216.239.32.21
216.239.34.21
216.239.36.21
216.239.38.21
Now save it and Come back to blogger.
Step-7 After 5-10 minutes Put your domain name again and click save Now your custom domain has been set up.
#makefreewebsite
Do not forget to share.